---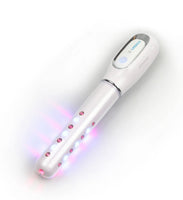 USA Seller - Fast 2-3 Day Shipping
NEW Gynecological Laser Therapy Wand- 650nm LLLT Laser Light- Red And Blue Lasers For Vaginitis- Vaginal Tightening-Urinary Incontinence
Tired of the embarrassing untimely leaks, or the dry down there feeling?
                   Ships from USA- 2-3 Day- USPS Priority Mail
This One unique device uses the technology of far-infrared light lasers to heal and rejuvenate vaginal tissue, treat yeast infections and strengthen pelvic floor muscles
Use for:
Feminine Dryness during intimacy & more sensitivity
Urinary Incontinence
Repair the vaginal mucosa
Vaginal tightening
Stimulate & Strengthen Pelvic Floor Muscles
Mild non-specific vaginitis
Mild cervical erosion
Cervicitis 
Columnar ectopy
Sterilize vaginal bacteria- yeast infections (Even Better with the Blue Lasers in our 2021 Upgraded Laser)
Pure natural physiotherapy, no side-effects and no pain.
How does the 
LLLT Cold Laser Therapy Wand
 Work
?
Our Female reproductive system has numerous folds and complex structures to it, and due to age, menopause or childbearing the tissue can wear down over time.

Several decades of clinical applications with the 650nm low level laser in the gynecology field, have shown to;
Repair the damaged tissue and cells

Activate enzymes 

Increase oxygen carrying capability of red blood cells as they absorb the laser energy

Stimulate and strengthen Pelvic Floor Muscles by the massage

Supporting the bladder and incontinence

Accelerate the blood circulation and collagen production, helping to regenerate the tissue

Increasing vaginal tightening

Increasing mucosal output

Even supporting the bladder and incontinence

Blue Lights for disinfecting
Why Our Device? 
1. 31 laser beams in one device, with THREE laser beams at end of the probe, to treat vertically to support treatment on columnar ectopy and vaginitis .
2.1800m Ah rechargeable lithium battery
3. Pure natural physiotherapy, no side-effects and no pain.
4. Laser light can penetrate deep into the tissue (up to 2 inches) for better deeper treatment and rejuvenation.
5. The massager function can improve the quality of your sex life and strengthen pelvic floor muscles. If you use it with the laser light therapy, it can increase the treatment efficiency.
6. Laser therapy and massage combined into one instrument, and can be used separately or together. 
7. Small size and easy to operate, to treat yourself easily at home.
8. 1 Year Manufacture Warranty
9. Ships from USA- 2-3 Day- USPS Priority Mail
How to use the gynecological laser therapy device?
Step1: Use the 650nm laser light to repair vaginal mucosa, use light therapy for 10 minutes. Auto shut off.
Step2: Massage & Vibration therapy for 10 minutes. Massage timer shuts off after 10 minutes.
NOTE: The treatment works better if you use both light and massage simultaneously, the curative effect is better.
Treatment Frequency: 2~3 times per week, and in severe situations you can double the frequency to 4-6 times per week.
DO NOT USE: If you are pregnant or during menstrual period or on children
How to Operate the Device
1) Long press the ON/OFF key, the device will turn on or off
2) Short press the ON/OFF key , the laser will stop output.
3) Press on massage button to add massage to treatment.
4) Clean treatment head after use, using alcohol on a cotton ball or mild soap on a cloth.
5) If the apparatus does not work after the power is switched on, please confirm that the battery is charged. Once the battery runs out, or even before, you can recharge the battery using the charging cable provided. USB charging end.
PACKAGING
Before using this device, please ask your doctor.
Package includes: 1*Therapy Wand Device,1 Charger,1*USB cable.
Cold lasers are sometimes called Low Level Lasers (LLL) or soft lasers.
Laser type: Medical laser 650nm wave length, total output 85mW, Low level Safe Laser Type B ,no side effects. 
Power Source: 1800mah built in battery
Laser Number: 31pcs
Timer:10 minutes Auto Shut down. 
Dimensions: Length*Diameter: 19.8*3.5cm (7.72*1.36inch)
NOTE: Due to the nature of this product it is not returnable, but is covered under a 1 year manufacture warranty. 
We offer a 30-day return policy for unopened Lasers.
See Our Return Policy for further Details. 
Frequently Asked Questions 
How long until the symptoms be improved?

Effectiveness may vary between individuals, depending on variables such as age, severity at start of use etc. Estimated time for visible improvement is 3-6 months 

Can the laser burn me?
No. it is a 650 nm laser wave length device, Safety Class Type B, no pain, no side-effects, no trauma.
Cold laser therapy is a relatively new technology compared to many alternative therapies like acupuncture (which has been used since 8000-3500 B.C.), chiropractic (since 1895) and physical therapy.
Just like the abacus evolved into the computer, many alternative medicine practices are evolving to include laser therapy.
Recent innovations in low-level lasers now make it possible for practitioners or consumers to own high quality cold laser equipment.
The first cold laser was FDA cleared in 2001.